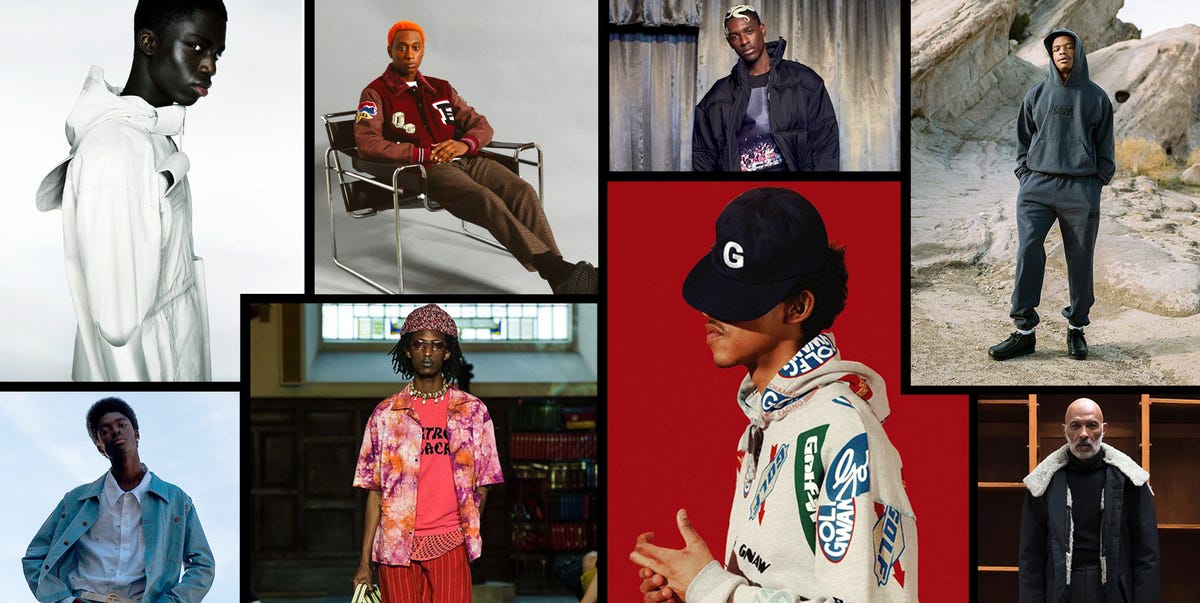 60+ Black-Owned Menswear, Clothing and Shoe Brands to Support Now
Historically, the fashion industry has been a fickle friend to the Black community. Even as it borrows freely from Black culture, strategically aligning itself with key figures to capitalize on the demand for surface-level diversity, Black faces remain conspicuously absent from the boardrooms where decisions are made and the design studios where fashion comes to life.
Over the last few years, cries for a long-overdue assessment of the industry's inability to make significant inroads when it comes to embracing inclusivity have reached a fever pitch. A lot of (very public) handwringing has followed. New initiatives were announced. Committees were convened. And while efforts like the 15 Percent Pledge and organizations like the Black in Fashion Council represent very real strides forward, there's still much to be done.
It's our responsibility as consumers, then, to help push for substantive change. In other words, it's time to put your money where your mouth is. This list, which we'll continue to update, is not exhaustive. It is, however, a starting point for those looking to support Black-owned menswear businesses fighting for the recognition they deserve. Black lives matter. So do your dollars. If you can spare a few, consider parting with them to support some of these businesses.
Advertisement – Continue Reading Below
Abasi Rosborough
Designers Abdul Abasi and Greg Rosborough offer a forward-looking take on cutting-edge tailoring, all made in NYC and informed by their shared experiences working within the upper echelons of the industry.
SHOP NOW
A-Cold-Wall*
Former Virgil Abloh mentee Samuel Ross made a name for himself and his label by merging elements of traditional streetwear with technical details and an appreciation for ergonomic design.
SHOP NOW
AllCAPS Studio
ALLCAPS Studio brings its seasoned eye for creative direction to product drops that make good on the studio's knack for nailing the details by incorporating its signature, graphic-heavy look.
SHOP NOW
Ahluwalia
Priya Ahluwalia's namesake brand takes inspiration from the designer's dual Indian-Nigerian heritage and her time spent growing up in London, all while incorporating vintage and deadstock fabrics in a now-signature emphasis on truly sustainable design.
SHOP NOW
ALLËDJO
Designed in Senegal, ALLËDJO is a genderless clothing line that uses bold prints and patterns to reference the aesthetic language of West Africa.
SHOP NOW
Armando Cabral
You might know Cabral from any of the many, many campaigns he's fronted, but the model-turned-designer has been making some of the most elegant shoes around for well over a decade.
SHOP NOW
Art Comes First
Sam Lambert and Shaka Maidoh's line of bright, energetic tailoring blends influences from time spent in Britain with design tropes culled from around the world.
SHOP NOW
ASHYA
ASHYA is a unisex line that specializes in meticulously assembled everyday (and not-so-everyday) travel accessories like crossbody bags and passport holders.
SHOP NOW
A. Sauvage
Sleek, sophisticated tailoring—and its accouterments—courtesy of the L.A.-by-way-of London brand led by Adrien Sauvage.
SHOP NOW
The Aware Brand
Aware is run by two childhood friends bonded by their commitment to spreading positivity through the clothes they make.
SHOP NOW
Bianca Saunders
Bianca Saunders' idiosyncratic take on modern masculinity references her Jamaican background and the guys she grew up around to great effect, often in the form of surprisingly vulnerable collections.
SHOP NOW
Blackstock and Weber
Blackstock & Weber is the Brooklyn-based footwear brand that happens to make some of the most handsome loafers in the Tri-State Area—and well, the whole damn world.
SHOP NOW
Botter
Founded by Rushemy Botter and Lisi Herrebrugh and based in the Netherlands, Botter consistently references Rushemy's Carribean roots, most recently in a collection devoted to coral reefs.
SHOP NOW
Brett Johnson
Johnson uses premium fabrics with a decidedly luxe feel to give life to his line of American (via Italy) wardrobe staples.
SHOP NOW
Bricks & Wood
Bricks & Wood's location in South Central L.A. is central—pun intended—to the brand's mission. The area informs the burgeoning label's designs and serves as inspiration for its cut-and-sew collections.
SHOP NOW
The Brooklyn Circus
The Brooklyn Circus has been one of the best boutiques in the NYC area for a while now (and that's saying something), and the store's in-house label offers the perfect blend of old-school silhouettes coupled with of-the-moment designs.
SHOP NOW
Brownstone
The brainchild of twin brothers Warner and Waverly Watkins, Brownstone is a meticulously sourced clothing line crafted in L.A. and inspired by a wide-ranging set of cultural touchstones that inform the brand's evolving perspective at every turn.
SHOP NOW
Bryan Jimenéz
Dominican-born, New York-based Bryan Jimenéz makes ultra-utilitarian menswear inspired by uniforms and other purpose-built pieces.
SHOP NOW
Carrots by Anwar Carrots
Bona fide industry veteran Anwar Carrots lends his signature savvy to a line of bright, deceptively clever streetwear staples with, yes, plenty of eye-grabbing vegetable imagery to go around.
SHOP NOW
Carton Outerwear
Carton is a gender-neutral brand from the West Coast that takes inspiration from current events, literally repurposing recent headlines to use as graphics for its line of politically aware streetwear.
SHOP NOW
Casely-Hayford
Casely-Hayford started out as a father and son-helmed collection focusing on premium tailoring with a contemporary edge. Though the elder of the two has sadly since passed, the brand continues to build on the legacy they built together under the careful stewardship of the younger Casely-Hayford.
SHOP NOW
Come Back as a Flower
L.A.-based Come Back as a Flower makes what it calls "high-vibrational" clothing. That means it's ethically produced, using recycled cotton and hand-dyeing techniques. Good vibes? Absolutely.
SHOP NOW
Connor McKnight
If you think starting a fashion brand sounds hard, imagine going about it from your bedroom during a pandemic. That's what Connor McKnight did, and considering the results—a mix of low-key tailoring and luxed-up outdoorsy essentials—we should count ourselves lucky he was willing to take the risk.
SHOP NOW
Coral Studios
A marketing agency? A fashion brand? Coral Studios is a little bit of both. Don't worry if that sounds a little strange; the product speaks for itself.
SHOP NOW
DAEM
The Brooklyn-based brand manufactures all of its watches in the Basel region of Switzerland, aka one of the most famous watchmaking hubs in the whole damn world.
SHOP NOW
Daily Paper
The Amsterdam-based brand sells a whole host of easy-to-style sets sure to make summer dressing a cinch.
SHOP NOW
Darryl Brown
The eponymous collection from the former steel worker and railroad engineer elevates elements of blue-collar style in a dusty, muted palette.
SHOP NOW
Death Club
You'll have to wait for the next drop to get something for yourself. Until then, you can bask in the glory of this extremely cool (and more than a little macabre) T-shirt.
SHOP NOW
Denim Tears
Denim Tears is all-around-paragon-of good-taste Tremaine Emory's ode to Black culture through the clothing it helped make cool.
SHOP NOW
Fat Tiger Workshop
Fat Tiger Workshop is a Chicago-based multidisciplinary space that stocks a curated selection of in-house products that definitely shouldn't be slept on. In fact, they sell out so quickly, going secondhand on a site like Grailed might not be a bad call if you miss a release.
SHOP NOW
Fear of God
Jerry Lorenzo's line of ultra-luxe streetwear staples didn't just become a celebrity fan favorite, and a global brand, for nothing.
SHOP NOW
Frère
Designer Davidson Frère makes suiting of the highest order for some of the biggest names in almost every industry (he counts a guy named Jay-Z, among many others, as a client).
SHOP NOW
Gallery Department
Josué Thomas' line of highly coveted, meticulously reconstructed vintage jeans has gradually evolved into one of the biggest breakout brands of the year, with cosigns coming fast and heavy from high-profile fans and Average Joe clothing fiends alike.
SHOP NOW
Glenn's Denim
Glenn's Denim is designed and manufactured in New York City by industry veterans with a deep appreciation for, and understanding of, all things Americana.
SHOP NOW
Goodee
Seasoned fashion veterans Byron and Dexter Peart's latest endeavor is a marketplace that supports purposeful, high-minded designers by stocking the purposeful, high-minded goods they make.
SHOP NOW
Golf Wang
Golf Wang allows Tyler, the Creator to channels his signature good taste through the medium of bright, prep-inspired clothing collections.
SHOP NOW
Heron Preston
In a short span of time, Preston has evolved his eponymous label into a force to be reckoned with in the ever-expanding world of thoughtfully designed luxury streetwear.
SHOP NOW
Hood By Air
Shayne Oliver's groundbreaking brand was high-concept luxury streetwear before high-concept luxury streetwear was a bona fide thing, paving the way for hordes of imitators after HBA went on hiatus in 2017. This year marks a triumphant return for Oliver and co. to a scene that never fully recovered from its absence.
SHOP NOW
Ikiré Jones
The men behind Ikiré Jones bring a deeply-felt appreciation for African design to regal, expert-level tailoring.
SHOP NOW
Kenneth Ize
Kenneth Ize reinterprets traditional Nigerian designs to make something simultaneously familiar-feeling and entirely new.
SHOP NOW
Le Tings
London-based Le Tings' upcycled rice bags have become a signature product, but the brand also makes apparel influenced by the "design dialect of the diaspora."
SHOP NOW
Martine Rose
A perennial fashion-crowd favorite, Rose launched her namesake label in 2007 and has since has racked up accolades and award nominations alike.
SHOP NOW
Maurice Sedwell
Master tailor Andrew Ramroop bought Maurice Sedwell from its eponymous founder in the late '80s and has since established the Savile Row Academy, an initiative intended to attract a more diverse workforce to London's historic tailoring destination.
LEARN MORE
Maxhosa Africa
Laduma Ngxokolo's brand celebrates traditional Xhosa design through the medium of beautiful, exuberant knitwear.
SHOP NOW
Midwest Kids
Designer Darryl Brown pays homage to his midwest roots with this aptly titled collection of tees and sweats.
SHOP NOW
Monad London
Designer Daniel Olatunji makes perfectly imperfect clothing at his own pace, typically out of hard-to-find, limited-supply fabrics.
LEARN MORE
Mowalola
Mowalola Ogunlesi, the Nigerian-born, London-raised designer behind an eponymous label famous for its leather-heavy wares, was appointed design director for Kanye West's upcoming partnership with Gap earlier this year.
SHOP NOW
Nicholas Daley
One of the London fashion scene's brightest rising stars, Daley has earned plaudits for his sly subversions of classic British style.
SHOP NOW
Norwegian Rain
Norwegian Rain makes weather-proof outerwear informed by an appreciation for craftsmanship at the highest level.
SHOP NOW
Off-White
Virgil Abloh is one of the most influential designers of our time. Off-White's success is a testament to his sway.
SHOP NOW
Ozwald Boateng
Ozwald Boateng (OBE!) has been breaking down barriers since he first came up on the scene as a mentee of the legendary tailor Tommy Nutter. His store on Savile Row is one of the few Black-owned businesses on the street.
SHOP NOW
Phlemuns
James Flemons' red-hot label is the result of years of experience honing his craft to create a line of largely unisex styles favored by some of the world's most expressive dressers.
SHOP NOW
Post-Imperial
Post-Imperial uses fabrics specially treated in Nigeria before carefully assembling each garment in New York.
SHOP NOW
Pyer Moss
Pyer Moss designer Kerby Jean-Raymond has made Black identity a central focus of his collections since day one, but it's his undeniable design talent that consistently makes his shows a standout.
SHOP NOW
Sole Classics
Columbus, Ohio's very own, Sole Classics stocks an array of hard-to-find kicks and a burgeoning in-house label that more than holds up its end of the bargain.
SHOP NOW
Supervsn
Supervsn Studios is based out of L.A. and sells a mix of graphic-laden hoodies, sweats, and tees.
SHOP NOW
Telfar
Telfar has been one of the hottest brands in the business for a minute now—if it wasn't on your radar before this, it should be.
SHOP NOW
The Marathon Clothing
The late, great Nipsey Hussle's clothing line, still as good as it ever was.
SHOP NOW
Third Crown
The NYC-based jewelry brand launched by husband and wife duo Kristin and Kofi Essel (shown here) sells gender neutral pieces that are sure to make a statement.
SHOP NOW
Tongoro
Tongoro's commitment to Africa-based manufacturing makes it a standout in an industry where that degree of care is far from the norm.
SHOP NOW
Union L.A.
Owner Chris Gibbs has turned his not-so-small boutique into a global brand and one of the best stores in the world.
SHOP NOW
Urban Zulu
Urban Zulu is a South African brand from Johannesburg that's making serious inroads stateside.
SHOP NOW
Wales Bonner
Since graduating from Central Saint Martins in 2014, Grace Wales Bonner racked up almost every industry accolade imaginable, and for good reason. Her collection seamlessly blends elegant sportswear-oriented silhouettes with precisely-cut, distinctive tailoring, all informed by an expansive worldview that finds inspiration in unexpected places.
SHOP NOW
Wanda Lephoto
Based in Johannesburg, South Africa, Wanda Lephoto has recently started making inroads in America. A sunny, workwear-inspired jacket-and-pants set is a particular standout.
SHOP NOW
Waraire
Designer Waraire Boswell's speciality is suits—breathtakingly beautiful bespoke suits, at that.
SHOP NOW
Western Elders
Western Elders takes inspiration from West African culture and the spirit of New York City by combining the best of both worlds.
SHOP NOW
Yeezy
Regardless of what you think of the man behind the brand, Yeezy is one of the largest Black-owned labels in the industry.
SHOP NOW
Yoah
The NYC-based brand started by two siblings sells a collection of gender neutral children's clothing.
SHOP NOW
Get Style News, Every Day
This content is created and maintained by a third party, and imported onto this page to help users provide their email addresses. You may be able to find more information about this and similar content at piano.io
Advertisement – Continue Reading Below